This Tutorial Video is a recording of an EMB3Rs workshop. It is made to guide users through the application of the heat and cold matching platform.
Introduction
00:00 – Presentation of the EMB3RS project and platform
Instructions for building simulation on the EMB3RS platform
30:12 Creating sources on the EMB3RS platform
39:06 Creating sinks on the EMB3RS platform
54:06 Creating the simulation on the EMB3RS platform
1:06:00 Running the simulation on the EMB3RS platform
Ending
1:07:58 – Explanation of the reports
A1 Poster (in English, Portuguese and Greek)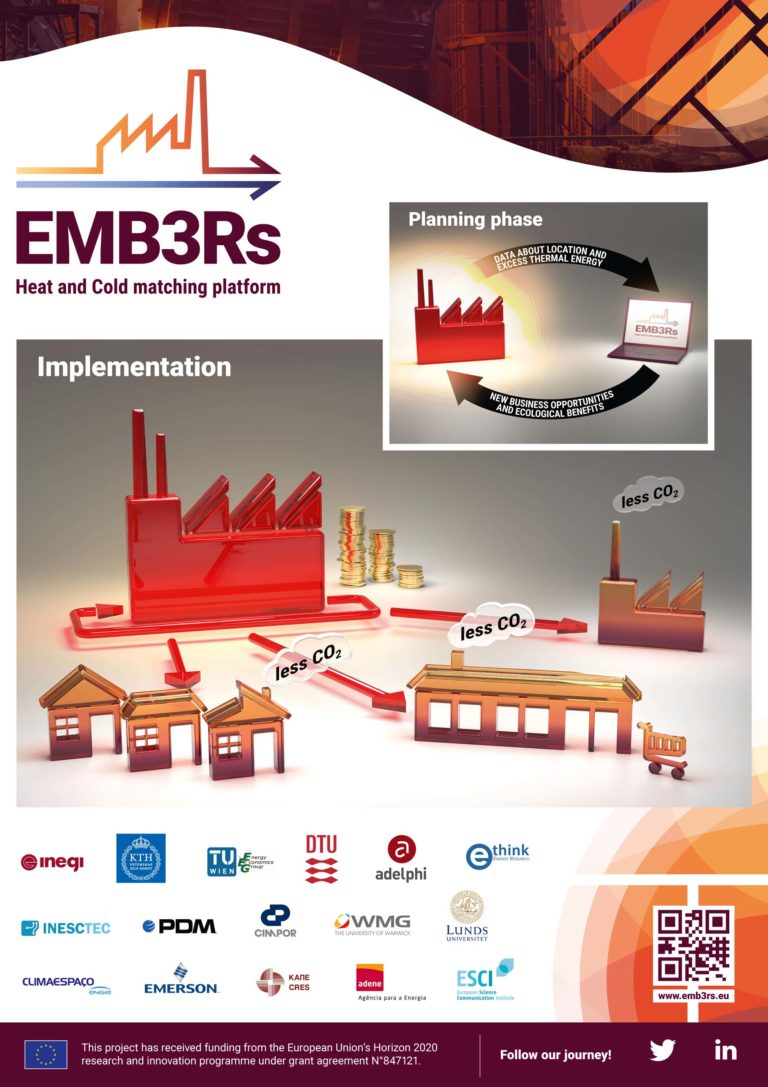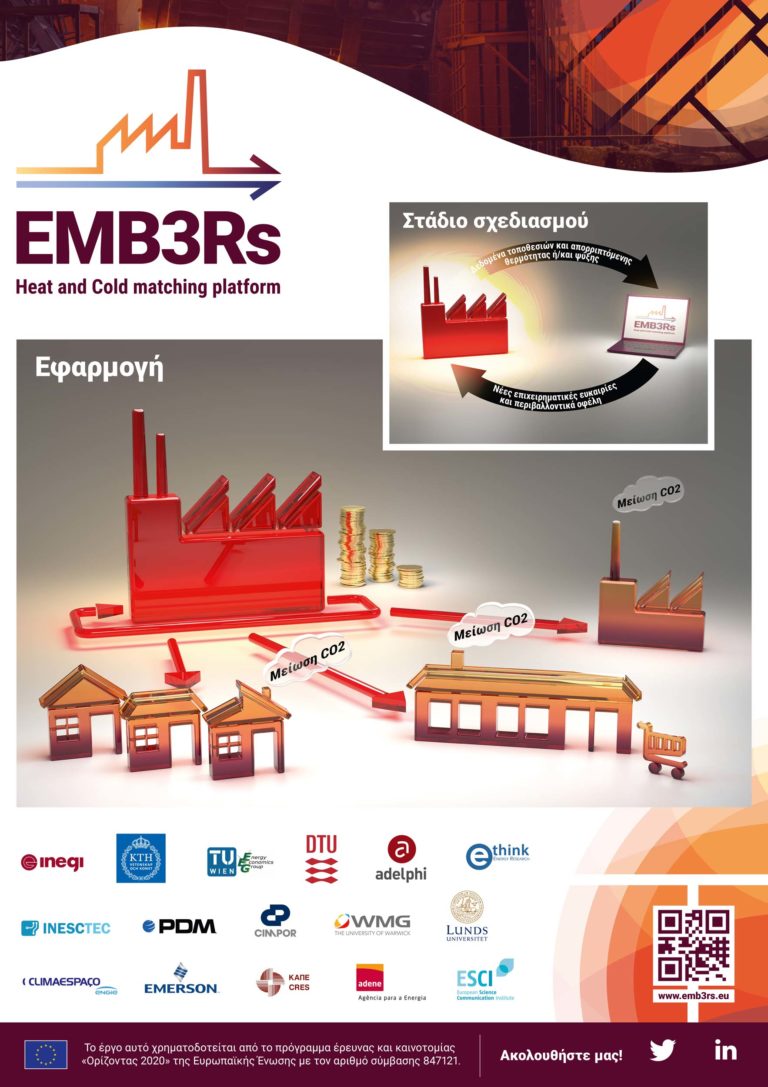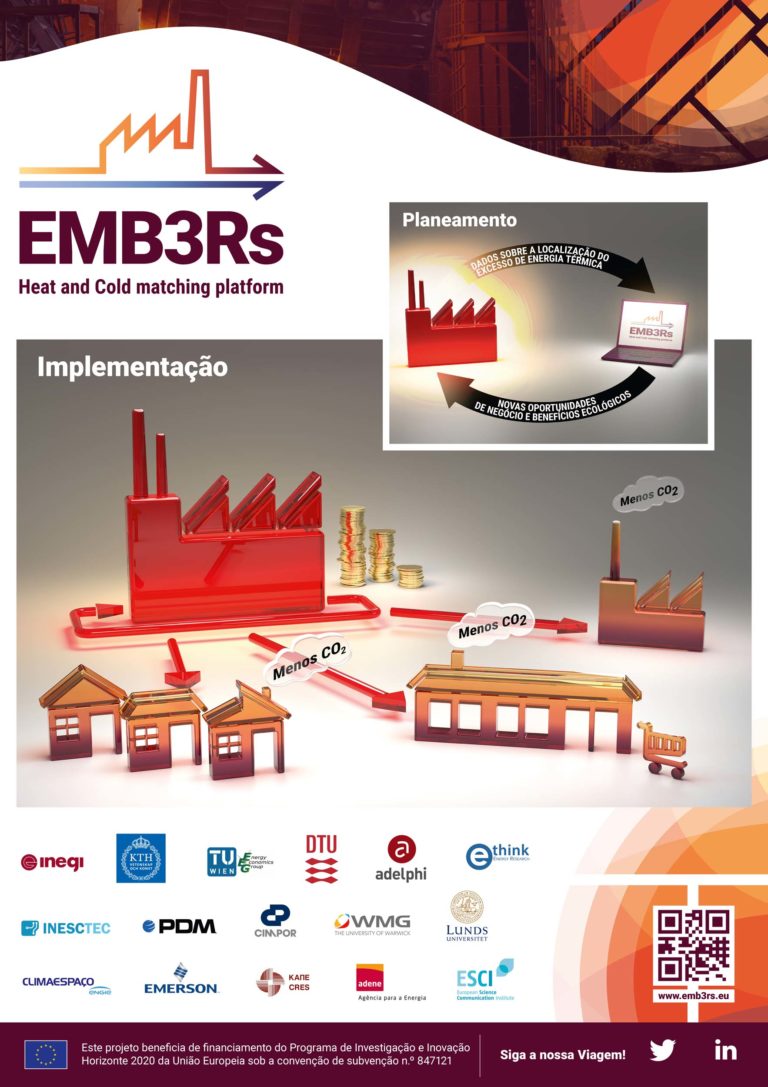 Banner (in English, Portuguese and Greek)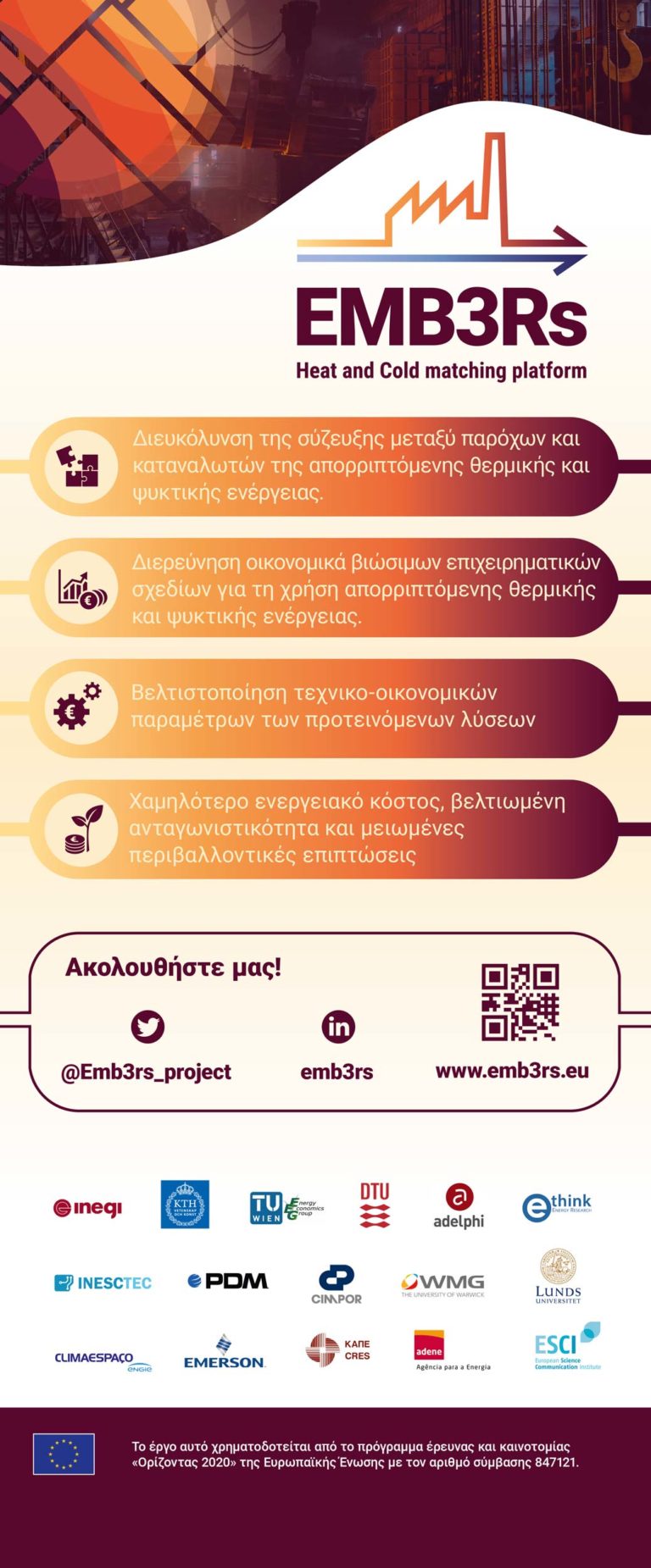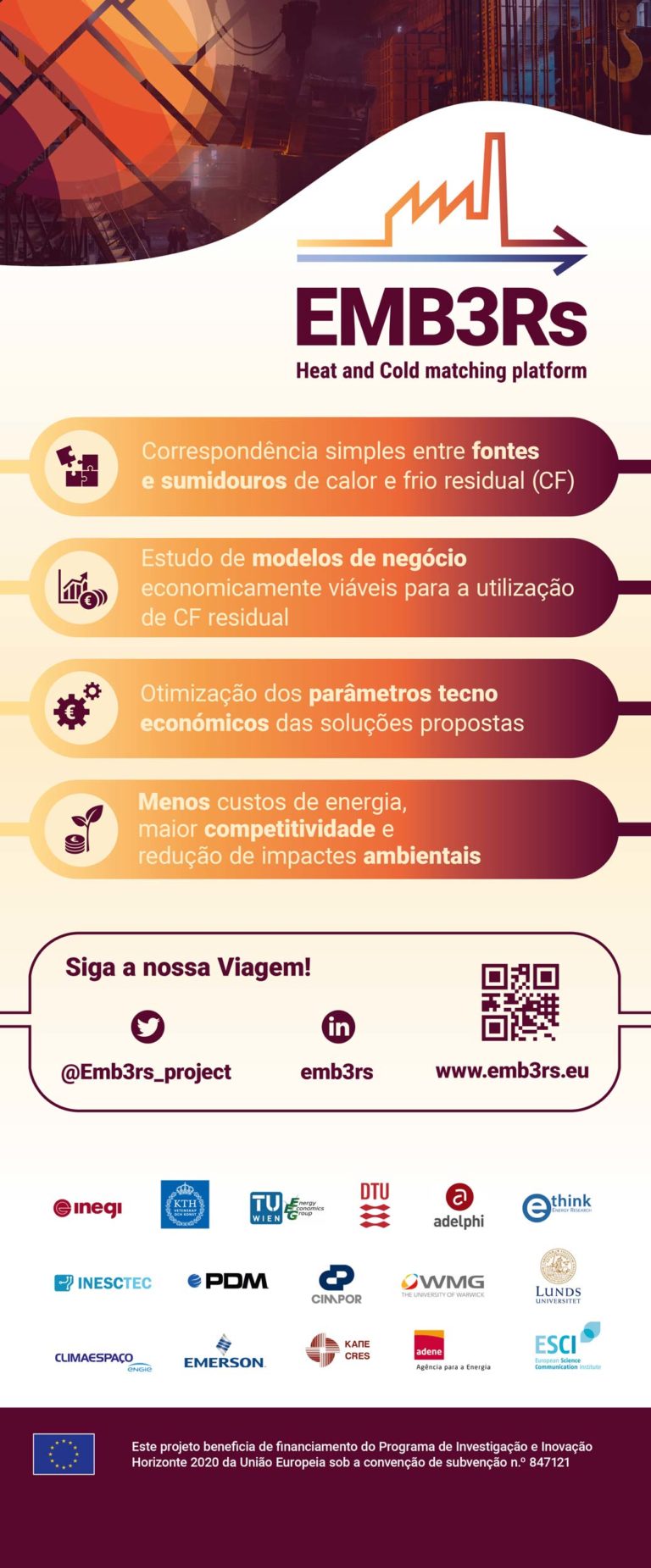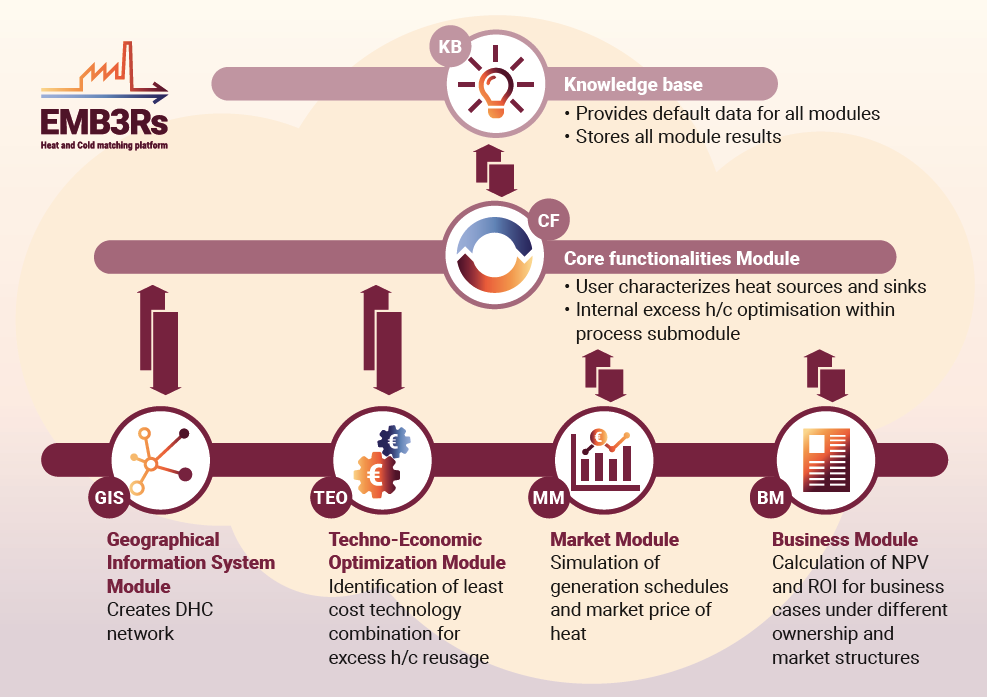 D6.2 Project Website and Social Media Channels
The present deliverable is "Other" in nature, i.e. it is not a report. For convenience, we provide a short report about the structure and the features of the EMB3Rs website and the EMB3Rs social media channels on LinkedIn, Twitter, ResearchGate and YouTube.
The EMB3Rs website is set up along the details of Task 6.2 described in the Work Plan Table of Annex 1 "Innovation Action" of the Grant Agreement and the rules governing in the  Consortium Agreement signed by the partners.
D6.3 Dissemination Kit: Poster, Banner and Brochure

Dissemination and awareness activities are a core part of the EMB3Rs project and will ensure that the tools and results developed within the project are communicated and exploited by relevant target audiences.
In order to reach this objective, i.e. to promote the project to both stakeholders, policy makers, potential investors and the public, a number of different dissemination and communication tools are required.
As outlined in D6.1, a dissemination kit – including brochure, A1 poster and roll-up poster – is part of the communication strategy. The brochures are for wide, individual distribution to potential end‐users and other stakeholders, the posters support the communication of EMB3Rs project at fairs and conferences.
The dissemination kit was originally scheduled for M6 (see D6.1). As a new partner joined in M6, its approval of the print material had to be awaited. Thus the scheduled date of D6.3 was updated to M8 in the project's amendment request.
Efficient use of waste heat energy and decarbonisation potentials using the EMB3RS platform
M. Kumar

This study innovatively  intended to assess the quantity and quality of excess waste heat and explore the opportunities for efficient use of waste energy produced by casting and ceramic industries in the UK using the heat and cooling platform – EMB3RS.
The platform integrated  techno–economic optimisation, GIS, market and business modules to provide insights for energy–intensive industries and discover ways of reusing their excess thermal energy
(ESCI and PDM 2021). This study proposes using this platform to answer questions on the cost–effective options and the optimal opportunity for decarbonisation and reuse of waste heat in these industries. For example, can the recovered quantity of heat waste be used internally for space heating, converted to electricity, or sold to a heat district network?

Further, what market design options is possible to enable energy trades between producers and consumers to gain economic and decarbonisation benefits?
For more information, please click on image to the left.
Market Integration of Excess Heat
L. Froelke, I. Palm, and J. Kazempour
Excess heat will be an important heat source in future carbon-neutral district heating systems. A barrier to excess heat integration is the lack of appropriate scheduling and pricing systems for these producers, which generally have small capacity and limited flexibility. In this work, we formulate and analyze two methods for scheduling and pricing excess heat producers: self-scheduling and market participation. In the former, a price signal is sent to excess heat producers, based on which they determine their optimal schedule. The latter approach allows excess heat producers to participate in a market clearing.
In a realistic case study of the Copenhagen district heating system, we investigate market outcomes for the two excess heat integration paradigms under increasing excess heat penetration.
An important conclusion is that in systems of high excess heat penetration, simple price signal methods will not suffice, and more sophisticated price signals or coordinated dispatch become a necessity.
To read full paper, please click on image to the left.
Decarbonization potential of integrating industrial excess heat in a district heating network: The Portuguese case
J. M. Cunha, Z. Mourão, A. S. Faria, T. Soares, J. Nereu
This paper assesses the decarbonisation potential of utilizing industrial excess heat to meet the baseload heating requirements of a district heating network (DHN) located in the Portuguese capital. It performs an economical comparison between two integration procedures: (i) extending the pipeline to the excess heat source; and (ii) using a continuous string of portable thermal storage modules.
In this scope, this work assesses the integration of the excess heat from a municipal waste-to-energy plant located 5km from a district heating and cooling network and the decarbonisation potential achieved by meeting the baseload heating requirements of the DHN. For the characterization of excess heat and economic analysis, the EMB3RS platform was used. The analysis showed that laying out a new pipe route was more economically feasible (with a levelized cost of heat of 17,25€/MWh), meeting the baseload consumption with a decarbonisation reduction potential of 30%. The higher levelized cost of heat (LCOH) of the portable thermal storage solution is mainly due to the high daily replacement cost for the thermal stores.
To read full paper, please click on image to the left.
Mutual-benefit of district heating market and network operation for prosumers integration
A. S. Faria, T. Soares, J. M. Cunha, Z. Mourão
The integration of prosumers (consumers who can both consume and produce energy) in a current district heating network (DHN) brings new challenges to the market and DHN operation, since they can change the thermal flow in the DHN and increase competition in the district heating market.
In this scope, this work proposes the implementation of a coordination methodology based on a peer-to-peer (P2P) market to enable bilateral energy trades between producers, prosumers and consumers, coupled with the DHN operation.
A Nordic DHN containing prosumers is used to test and validate the proposed methodology. The results point out that the coordination methodology is able to provide compromise solutions between the market negotiation and the DHN operation. An important conclusion is that the coordination methodology encourages prosumer integration in DHN, increasing market competition that may pull down the energy costs for consumers while avoiding DHN's operating and management burdens.
To read full paper, please click on image to the left.
A network-aware market mechanism for decentralized district heating systems
L. Frölke, T. Sousa, P. Pinson
District heating systems become more distributed with the integration of prosumers, including excess heat producers and active consumers. This calls for suitable heat market mechanisms that optimally integrate these actors, while minimizing and allocating operational costs. We argue for the inclusion of network constraints to ensure network feasibility and incentivize loss reductions. We propose a network-aware heat market as a Quadratic Program (QP), which determines the optimal dispatch and a set of nodal marginal prices. While heat network dynamics are generally represented by non-convex constraints, we convexify this formulation by fixing temperature variables and neglecting pumping power. The resulting variable flow heating network model leaves the sign and size of the nodal heat injections flexible, which is important for the integration of prosumers. The market is based on peer-to-peer trades to which we add explicit loss terms. This allows us to trace network losses back to the producer and consumer of these losses. Through a dual analysis we reveal loss components of nodal prices, as well as relations between nodal prices and between seller and buyer prices. A case study illustrates the advantages of the network-aware market by comparison to our proposed loss-agnostic benchmark. We show that the network-aware market mechanism effectively promotes local heat consumption and thereby reduces losses and total cost. We conclude that the proposed loss-aware market mechanism can help reduce operating costs in district heating networks while integrating prosumers.
To read full paper, please click on image to the left.
Exploring the role of households' hurdle rates and demand elasticities in meeting Danish energy-savings target
K. S. Andersen, C. Wiese, S. Petrovic, R. McKenna
The EU's Energy Efficiency Directive (EED) sets a binding target for energy-savings in EU member states. The EED further requires member states to perform ex-ante evaluations of energy efficiency policies implemented to achieve these savings. However, ex-ante evaluation of energy efficiency policies is difficult as it requires detailed modelling of end-users' investment and energy demand behaviour. This paper details the Danish IntERACT modelling approach for ex-ante evaluation of energy efficiency policies directed at residential heating. IntERACT integrates the energy system model TIMES-DK into a computable general equilibrium framework. The paper explores the potential for meeting Denmark's EED-target through a policy-induced increase in households' investments in energy efficiency retrofits. The paper considers the effect of energy efficiency policies on households' investment behaviour by applying different levels of hurdle rates on households' investments in energy efficiency retrofits. The paper shows that reducing the hurdle rate from 25% to 4% could meet more than a third of Danish energy-saving requirements for the period 2021–2030. This result includes a direct rebound effect of 31%. Finally, the paper demonstrates that reducing the hurdle below 10% has a substantial negative impact on households' disposable income, making such policy less viable from a policy perspective.
To read full paper, please click on image to the left.
Liberalized market designs for district heating

networks under the EMB3Rs platform
A. Faria, T. Soares, J. M. Cunha, Z. Mourão

Current developments in heat pumps, supported by innovative business models, are driving several industry sectors to take a proactive role in future district heating and cooling networks in cities. For instance, supermarkets and data centers have been assessing the reuse of waste heat as an extra source for the district heating network, which would offset the additional investment in heat pumps. This innovative business model requires complete deregulation of the district heating market to allow industrial heat producers to provide waste heat as an additional source in the district heating network.
This work proposes the application of innovative market designs for district heating networks, inspired by new practices seen in the electricity sector. More precisely, pool and Peer-to-Peer (P2P) market designs are addressed, comparing centralized and decentralized market proposals. An illustrative case of a Nordic district heating network is used to assess the performance of each market design, as well as the potential revenue that different heat producers can obtain by participating in the market. An important conclusion of this work is that the proposed market designs are in line with the new trends, encouraging the inclusion of new excess heat recovery players in district heating networks.
To read full paper, please click on image to the left.